Feeling moody because stupid mama bought duck meat for me almost everyday for 2 weeks straight...
Complained to prissiko on msn in the morning and she told me to join her & ki for dinner and she promised me no duck meat for dinner!
Actually I didn't sleep from Tues (25th Aug) 2p.m till I meet her....so I'm kind of slow in my response that day...
Met prissiko to go sls first because she wan to get her camera.....BUT she didn't buy it in the end due to the following factors:
1. no purple colour de
2. no original camera pouch
I bought my new rmvb media player that day too. The old one overheated because I forgot to off it and left it on overnight. T.T
Headed down to ION to meet jaja to pass her the clothings she bought first den after that went to meet ki for dinner.
We walked around ION trying to search for the escalator to go down to B4 because ki say B4 many things to eat.
As usual, me n prissiko were laming behind him saying that we shall grab tiny bites along the way den when he found his way, we 2 full le. hahaha...
after about 5-10mins search, we gave up and settled down in the food court to have some prawn noodles. (as usual pic stolen from prissiko blog)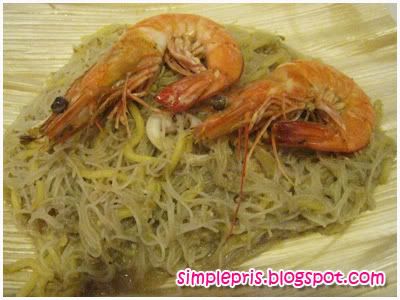 prissiko so busy tmm-ing with her eu so hungry ki & me went to buy our food first. den ki as usual (part of him?) lame with me again....
he was saying that me not working den should go explore singapore. he tried to list down all the shopping areas near my house for me to explore. but every place he list, i told him i already finished exploring...den he started naming down the mrt stations =.=" he so determined to find a place i haven't explore...
when we were back, prissiko just nice finished her tmm-ing phone call. den she wanna try our prawn noodle so i gave her some. but the noodles too long so she had to suck very hard at it. LOL. that scene is so funny and classic. too bad i nv took any pic of her doing that!
while she was away buying the noodle...me n ki started laming again
ki: pris de sucking skill not good
me: eh...we won't know lor....must ask eugene
ki: aiya maybe eugene dun mind
me: he easy-going on the sucking la
den suddenly ki said "eh dun change topic! back to topic!"
i was like huh? what topic? and he actually meant...........listing the places for me to explore. =.="
(oh yes after dinner while we were exploring around ION, we finally found out that we were going in circles AT B4 all the time! ki didn't realised we were at B4! =.=")
after dinner we wanna find a place to sit down and la kopi...decided to head over to the new place in town, KPO.
so ki drove over there and we had to park in orchard central....and we all get giddy while trying to reach the appropriate place to park inside orchard central....why? look at this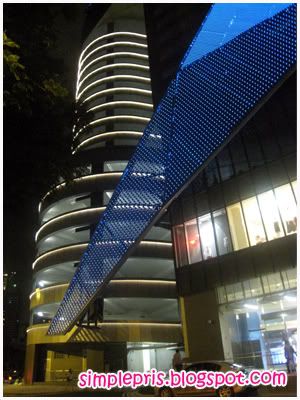 OMG the route to the carpark just kept going in circle. me n prissiko both seh-ed by the time ki's car stop going in circle.
too bad KPO too full le so we can't go in....end up we settled for somewhere budget...and that is.............
SOFA AT ORCHARD CENTRAL WITH BUBBLE TEA TAKEAWAY!
haha....really budget and comfy wor!
and as usual (again?) Mr Nice Guy Ki send both of us home. He was telling him to guide him because his last attempt to send me home from orchard ended up with prissiko being sent home first.
BUT WE DON'T SEE ANY IMPROVEMENT FROM THIS TIME!
The route we took that day to reach my house....
Orchard-Novena-Serangoon-Kallang-Suntec-Marina-Bugis-Selegie-Serangoon-PIE-BKE-KJE-Home
*faints*
Because of 1 wrong turn, we ended up touring singapore and ki still can lame say he bring me explore singapore. *speechless*
nvm....let's hope he can do better next time...