A bit late lah....but just wanna make a post to thanks those who gave me presents + celebrate with me~
Celebration number 1 on 21/4/2005
At the vienna's seafood buffet restaurant with mama, papa & my 2 sis. of coz..this meal is paid by papa...each person about $30+. Got fresh oyster there~~ den lots and lots of nice food. and some more...u get 1 glass of fruit juice free...not coke or lemon tea but real fuit juice!
no pic for this event...coz all on papa's hp...T.T
Celebration number 2 on 22/4/2005
At my office's pantry with my colleagues....lots of ppl was there...can't remember who was there...but thanks to hsien yew, woon cheng & mei ing who went to buy the cake for me. My favourite cake wor~ Angie the Choice's Strawberry Cake~ Nice nice wor~
no pic for this event too...coz no one got camera...T.T...joys wasn't there....she is our office camera girl...
Celebration number 3 on 23/4/2005 (Yeah!!)
Had dim sum at dragongate with Teck, Tai, Ber, Stanley & Cry...nice nice dim sum~~ had a great time there....lots of jokes and chit-chatting...finally this one got pics...thanks to cry who always bring her camera around (like teck says...we won't scared no photo for our funeral one
day...coz cry has lots of them with her...haha)
tai engross in the menu...

ber busy eating...

stanley & cry

me & cry~

me with cry's big sunglass...

my gang~

next we were on our way to ktv at orchard party world....
stanley, ber & teck on northeast line mrt~

tai, cry & me on northeast line mrt~

finally at the ktv...my cake appears...those who can't read the words on the cake...don't ask me what it means..
shuling & cry @ ktv

>
my cake...

den we had bk at raffles city...that's where we meet up with ann...but..not a pleasant meeting...coz she basically pissed everyone off the moment she met up with us by suaning and criticizing everyone....so we did manage to shake her off our group by saying let's all go home....but we didn't....we met up somewhere else again (hope she won't see this....)
group photo @ raffles city

after that...we went to paulaner @ millenia walk...a nice nice place with live band...and it became our gathering place every 2 wks~
Present section
now now this is the present section...to giving naming rights to those who gave me present...haha...
Present from Jac No. 1 - A pink knitted turtleneck top~

Present from Jac No. 2 - A brown knitted turtleneck top~

Present from Jac No. 3 -Beware of the dog sign~

Present from Jac No. 4 is in my office...so can't take pic of it now..haha
Present from Mama - An OP pink bag~

Present from Papa - A 0.21 carat diamond ring~ the most expensive present of all~~~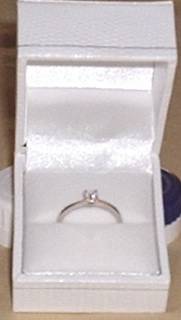 Present from Hui Hui - A blue knitted top~

Present from Katrina - A pair of ribbon earring~ this pic cannot see properly...but it is actually a ribbon earring with a purple stone in the middle and white stones at the side...nice nice....

Last but not least.....my own present to myself!!!

finally...that's all that happens for my birthday this year~~ haha